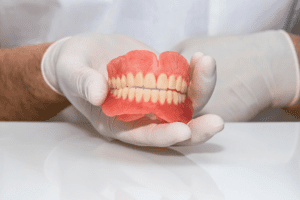 For thousands of years, dentures of some form have been used to replace missing teeth. The options available now are more comfortable and natural-looking than ever. Our team at Nautical Dental can help you find the right restorative dentistry option to replace missing teeth for a beautiful, healthy smile. We offer partial, full, and complete dentures that can make you look younger and feel like your old self again. You deserve a complete smile that can fit into your budget; They can be the best option for many of our patients.
When you have lost all or most of your teeth, your health and appearance can suffer. You need your teeth to chew the foods that keep you in the best health. Plus, your teeth support your facial muscles and are important to keep you looking your best. Full and complete dentures can restore your smile, giving you back the ability to eat the foods you love while giving you back your self-confidence in social situations. We offer full dentures to replace upper or lower sets of teeth, and complete dentures for an entirely new smile.
When you are missing some of your teeth, you have several options to restore your smile. Dental bridges and implants are permanent options we offer to complete your smile. Another option is partial dentures. For those that are not good candidates for implants or bridgework, this is an affordable solution to give you back a complete, healthy smile.
Whether you already have dentures and want to explore new options, or you are looking to begin restoring your smile, come see us at Nautical Dental. We offer many options for replacing missing teeth, including comfortable and natural-looking crowns and dental implants in San Antonio, Texas. Contact us today to learn about our financing and payment options – we also accept many dental insurance plans.