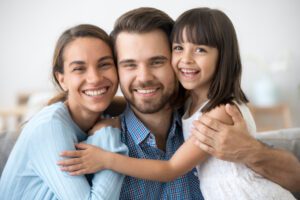 A healthy, beautiful smile starts with excellent oral care. At Nautical Dental, we want to help you and your family maintain your smiles with our general dentistry services. From routine preventive care to handling dental emergencies, our experienced dental team is your source in San Antonio for exceptional dental care for your smile.
Home oral care is important to maintaining healthy teeth and gums, but routine cleanings and checkups in San Antonio, Texas, are also a vital aspect. At Nautical Dental, our friendly dental team offers comprehensive exams and professional cleanings to care for your family's smiles. We also have family block appointments to make it easy to stay on top of your family's preventive dental care.
Your gum health is essential to maintaining your smile and overall wellness. Gum disease is a serious condition that can put your teeth and health at risk. At Nautical Dental, we provide preventive care to help our patients avoid gum disease, as well as effective treatments to stop this progressive disease in its tracks. Call us to schedule a checkup and cleaning and to learn more about stopping gum disease.
Damaged teeth can become vulnerable when the structure is weakened. Dental crowns offer extra protection that can ensure a weakened tooth is safe from further damage. Nautical Dental can create beautiful dental crowns to protect cracked or damaged teeth, while naturally blending into your smile. Keep your smile looking beautiful with our dental crown options.
A severely damaged or infected tooth is not only painful; it can be at risk of extraction if not treated. Root canal therapy is an effective option to repair and treat teeth that have interior infections or pulp damage. Our team at Nautical Dental offers gentle root canals that can stop the pain and save your tooth. With our sedation dentistry options, you can relax while we provide the treatment you need for severe tooth pain.
TOOTH EXTRACTIONS

/WISDOM TEETH REMOVAL
Needing a tooth extracted does not need to be stressful when you come to Nautical Dental. Whether you have a damaged tooth that cannot be saved or need your wisdom teeth removed, we offer gentle tooth extractions in a comfortable, relaxing environment. We have sedation options available to ensure all our patients are relaxed and pain-free while we perform any tooth removal.
When you need a same day dentist appointment, call our friendly team at Nautical Dental. We leave room in our schedule to see patients that need urgent dental care or have fluctuating schedules. Your comfort and care are top priorities at our office; we will always try to get you in for a same day appointment when you need to see one of our experienced dentists.
When you need urgent dental care, call our efficient team at Nautical Dental. We never want our patients to wait when they need emergency dental services. We offer same day appointments and urgent care services when you or a family member has a severe toothache, damaged tooth, or other emergency issue. Call us first when you need to see a dentist right away.
Periodontitis, or gum disease, is a common health issue among adults, putting you at risk for tooth loss and other serious ailments. Our periodontal therapy options in San Antonio, Texas, at Nautical Dental can help stop gum disease and restore your gum health. Our experienced dental team can begin treatments to clear up infection within the gums and get you on the road to excellent oral health.
A cracked or damaged tooth needs immediate care to prevent further issues or tooth loss. Our team at Nautical Dental offers cracked tooth repairs, from simple bonding for small issues to extensive treatments to save a severely damaged tooth. We offer emergency and same day appointments when you need immediate care for a painful or cracked tooth.
We love kids at Nautical Dental and have a fun, calm atmosphere for their dental care. We make our littlest patients feel comfortable when coming in for their dental treatments to protect their growing smiles. Our dentists and team take the time to get to know your children and help them learn the importance of excellent oral care for bright, beautiful smiles that can last a lifetime.
For more information about general dentistry or to schedule an appointment Contact Us Today!