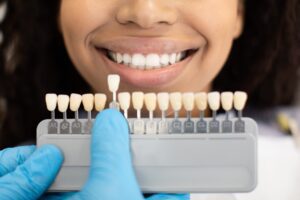 How do actors, models, and other celebrities get the dazzling smiles you see on magazine covers and the red carpet? Often those smiles have been cosmetically improved with the use of porcelain veneers. Gaps, crooked teeth, discolorations, and other dental flaws can be covered behind a perfect smile created with thin shields of porcelain. Nautical Dental offers beautiful cosmetic dental veneers that can give you the stunning smile of a celebrity.
Dental flaws can be fixed, but they can often require years of orthodontic and other treatments. Porcelain veneers offer a fast way to transform the look of your smile. The process involves creating small covers for your teeth that disguise any flaws. The tiny, thin pieces of porcelain are adhered to the front of your teeth to create a new look for your smile. In just a few appointments, you can have a new smile created that will be permanent in a few weeks or less.
COSMETIC DENTAL VENEERS
Most people are candidates for cosmetic dental veneers. However, there are some stipulations. A small amount of enamel must be removed to make room for the veneers on your teeth. Those who lack enamel may not be good candidates. However, this is an option for many people looking to improve their smile. Other options are cosmetic dental crowns, dental bridges, composite fillings, and whitening, all available at our office in San Antonio.
If you are ready to change your smile, come see our team at Nautical Dental. Porcelain veneers may be the best way to get your own Hollywood smile. Contact our office today to schedule your consultation and learn more about all available options. You deserve a smile that you can be proud to flash for the camera and the world. We offer payment plans and financing to help you find budget-friendly options for your new smile.