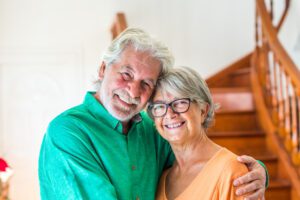 When you have lost or damaged the majority of your teeth, your health, self-confidence and appearance can be negatively affected. Your ability to eat healthy foods can be diminished, impacting the level of nutrients you receive for optimal health. Missing teeth can allow bone loss to occur in the jaw, changing the way your facial muscles look, giving your face a sunken appearance. Without a full smile, you can feel self-conscious and lose your confidence. With full mouth reconstruction, you can reverse these effects of tooth loss and regain your quality of life.
As part of our restorative dentistry treatments at Nautical Dental, we offer full mouth reconstruction for our patients. There are many reasons this comprehensive approach is needed. In some cases, our patients have lost or damaged the majority of their teeth due to disease or illness. Others have had a severe trauma break or remove many of their teeth. Whatever the reason, this process can restore your entire smile using a variety of dental techniques that can allow you to smile, eat, and enjoy life like you did before.
COMPREHENSIVE SMILE RECONSTRUCTION
A full smile reconstruction can require many different dental procedures. Depending on the person and the situation, it may include dental implants, crowns, bridgework, surgical grafting, and porcelain veneers. It can take weeks or many months, depending on the procedures required. At Nautical Dental, we offer comprehensive reconstruction of your smile, all at one location. Our dentists have the experience, training, and education to perform all the different aspects of a full mouth reconstruction through our office, making the process easier and more convenient for our patients.
You deserve a healthy, full smile. Find out more about full mouth reconstruction to restore your smile by contacting us today. Insurance is accepted and we offer many financing options.