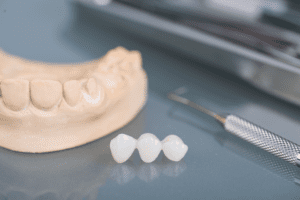 Losing teeth can change the look of your smile and compromise your oral health. Once one or more teeth are gone, you may be embarrassed to smile, while your existing teeth lose their stability. With space available in your smile, teeth can begin to shift, creating crooked teeth that are difficult to keep healthy. With dental bridges from Nautical Dental, you can improve the beauty of your smile with cosmetic dentistry while protecting your dental health.
When you are missing teeth, you can feel less confident. Your smile is not the same as it once was and other issues can evolve. Missing front teeth can change your speech, while missing back teeth can affect your ability to eat certain foods. Shifting teeth can put you at higher risk for gum diseases that can affect your oral or overall health. At Nautical Dental, we want to help you restore your smile with options like our beautiful dental bridges.
EFFECTIVE OPTION
Dental bridges are an effective option for replacing missing teeth. The most common dental bridge uses the teeth on either side of the missing tooth or teeth to secure a prosthetic replacement. These artificial teeth are referred to as pontics and are connected to dental crowns that are placed on the abutment teeth. Dental bridges can be used to replace up to three teeth that are missing, creating a full smile while giving stability to your existing teeth.
At Nautical Dental, we use the latest technology to restore smiles with beautiful alternatives. We can create excellent dental crowns and pontics that look and fit like your natural teeth when we create a dental bridge. We also have other restorative options available, including dental implants and dentures in San Antonio, Texas. If you want to restore your complete smile, contact us today for a consultation. We can discuss all the options we have available, including dental bridges.