Do you want to dazzle the crowd when you smile? You can with cosmetic dentistry services from Nautical Dental in San Antonio. 
We know how important a beautiful smile is to your self-confidence and appearance. After all, your smile is one of the first things people notice about you, so you want it to look its best.
At Nautical Dental & Braces, our dental care services can help you achieve a smile that will look better than ever, from whitening to a complete smile makeover. Contact us today to schedule your appointment.
Our Quality Cosmetic Dentistry Services
Cosmetic dentistry is a branch of dentistry that deals with the aesthetics of the teeth. It can improve both the look and health of your teeth and gums. It includes teeth whitening, dental veneers, and dental implants.
We strive to provide the best cosmetic dentistry to serve any member of the San Antonio community. Our service list includes: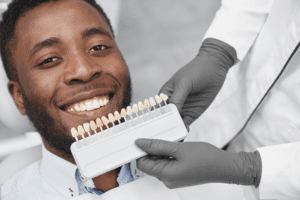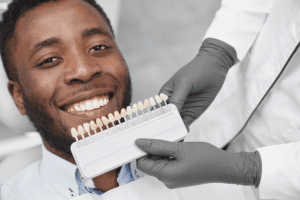 COMPOSITE

FILLINGS
You can have a completely white smile, even with tooth repairs. Nautical Dental offers beautiful white composite fillings that are durable and match your tooth color. Composite fillings are easy to apply, and the procedure is pain-free. No more metal flashing when you laugh or talk; composite fillings can effectively repair teeth, cover flaws, and last for years without detracting from the beauty of your smile.
When you are missing teeth, you can be self-conscious of your smile. Dental bridges from Nautical Dental & Braces can replace missing teeth and give you a confident, complete smile. Not only can dental bridges fill those gaps in your smile, but they can also help protect your oral health by keeping your existing teeth in place. This means the teeth on either side of a missing tooth gap will not move and cause further dental problems. Is a dental bridge right for you? Call us to find out more.
Want a straight and gorgeous smile, even and brilliantly white? You can have that smile with porcelain veneers. Porcelain veneers fit over your teeth to cover flaws. Veneers have many helpful benefits, including improving your tooth color, shape, size, and sometimes eliminating gaps between the teeth. Before applying a veneer, Dr. Cornelius will ensure the underlying tooth is healthy and strong enough to support the veneer. If it is not, we can perform any necessary treatment to bring the tooth to a healthy condition before applying the veneer.  
At Nautical Dental & Braces, we can help you get a new smile in as little as 2-3 visits to our office with porcelain veneers.
Want to brighten your smile quickly? Nautical Dental offers professional teeth whitening to make your smile more youthful and attractive. Brighten your smile several shades with our safe and effective teeth bleaching. It is one of the easiest ways to improve your smile when it begins to look dull and stained. Our whitening procedures are fast enough to deliver visible results to your teeth after just one treatment.
The Best Quality Cosmetic Dentistry in San Antonio
There are many reasons why you might consider cosmetic dentistry. Maybe you're unhappy with the color of your teeth, or perhaps you have a chipped tooth that's been bothering you for years. If you're self-conscious about your smile for any reason, cosmetic dentistry can help you feel more confident. Many people report that their self-esteem improves after undergoing cosmetic dentistry. Whatever the reason, cosmetic dentistry can give you a smile you've always wanted.
If you don't see a cosmetic dentistry procedure you are interested in listed here, we can probably provide it anyway. Please don't hesitate to reach out to us with any questions about your cosmetic dental goals. 
Contact us today to schedule your appointment.