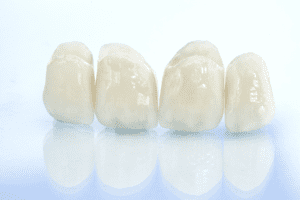 At Nautical Dental, we want to help protect your smile. We offer beautiful dental crowns, inlays, and onlays that can repair and strengthen your teeth in San Antonio. When you have a tooth that has a weakened structure, it needs support to handle pressure. A dental crown can cover your damaged tooth and give it the protection it needs for many years to come. Onlays and inlays are other general dentistry treatments to repair cracked or damaged teeth. 
Restore Cracked or Damaged Teeth With Dental Crowns
When a tooth has been damaged due to trauma, has large fillings, or has had a root canal, the entire structure can be compromised. Dental crowns cover and shelter the whole tooth down to the gum line, completely protecting it. 
The process for placing crowns can be quick and comfortable. The first step will be for you to visit us at our San Antonio dental office, where Dr. Cornelius will visit with you to learn about your dental goals and what you have in mind for treatment. We will thoroughly evaluate your dental situation, possibly taking X-rays to get an in-depth picture of your tooth and jaw structure. 
If it turns out that crowns are the recommendation that you'd like to go with, Dr. Cornelius will begin by prepping the tooth which the crown will cover. The tooth needs to be shaped and formed to allow the crown to fit. 
We may then take impressions of the teeth to help sculpt the crown for a perfect fit and may provide a temporary crown for you to wear until the process is complete. 
We use the latest imaging technology to create dental crowns that look beautiful and fit comfortably. The result is a dental crown that perfectly matches your smile while protecting your tooth.
Inlays and Onlays
Other options for repairing damaged teeth are inlays and onlays. We use these are dental restoration procedures to strengthen and improve the appearance of teeth. Onlays and inlays are similar, but we use onlays to restore large areas of tooth damage, while we use inlays to restore small areas of tooth damage. Unlike fillings, inlays and onlays are formed to fit over a portion of the tooth. We adhere the inlay or onlay to the tooth surface. This provides strength to the tooth, which might be needed after a procedure for large fillings or when there is damage to the tooth's cusp.
We sometimes use onlays and inlays on teeth that are discolored, chipped, or cracked. We can also use them to fill in gaps between teeth. Onlays and inlays are more durable than bonding and veneers, and they can last for many years with proper care. Onlays and inlays are also less likely to stain than bonding and veneers.
This process uses porcelain or metal to strengthen the structure of the tooth. We can match the substance to your tooth color to ensure it blends into your smile. 
Great Dental Solutions in San Antonio
Nautical Dental & Braces has you and your teeth covered with dental crowns, inlays, and onlays. We provide the very best dental solutions for repairing and protecting your teeth. 
We work with only the highest-quality materials, and our dental crowns, inlays, and onlays are expertly created using innovative technology. 
Don't Hesitate To Contact Us!
Nautical Dental & Braces is a dental office in San Antonio that provides excellent dental care for the whole family. We have a great team dedicated to providing quality dental care. Dr. Cornelius is passionate about ensuring that every patient has a positive dental experience.
Contact us today for quality dental repair in San Antonio. We accept most insurance plans, plus offer payment options for your convenience.