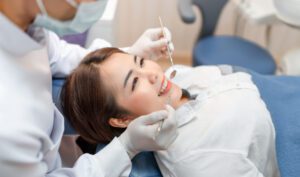 There is no reason to have metal fillings that change the look of your smile. Composite fillings can blend into your smile with cosmetic dentistry from Nautical Dental, matching your tooth color while offering a durable repair. You can enjoy a white smile while getting repairs that you need with durable composite resin.
Amalgam fillings have been used for many years for tooth repairs, especially back molars. While composite fillings were available, they were often only used on front or anterior teeth. Improvements to composite resin have made it more durable and useable on most fillings and repairs. Many people have chosen to have old metal fillings removed and replaced with white composite fillings that match their teeth, without any mercury or other metals in the material.
WHAT IS A COMPOSITE RESIN?
To create composite resin, a blend of plastic, glass, ceramic and other materials is used to form a putty substance. This soft material can be made to match the color of your teeth and blend in with your smile. It can be used to fill cavities, repair chips, and bond small cracks in teeth. The material is hardened in layers as it is applied to the teeth, creating a durable repair that is also flexible. This causes less stress to the tooth while blending into the tooth.
They can be used for repairs and cosmetic coverage of dental flaws. The tooth-colored resin is versatile and used for many dental repairs. If you want metal fillings replaced with aesthetically pleasing composite resin or have new repairs needed, call us at Nautical Dental. We offer cosmetic repairs that will match your tooth color for a beautifully white smile.
Composite fillings are just one of the many cosmetic dental options we offer. Contact Nautical Dental today to learn more about all our cosmetic services, including whitening, porcelain veneers, and dental bridges.